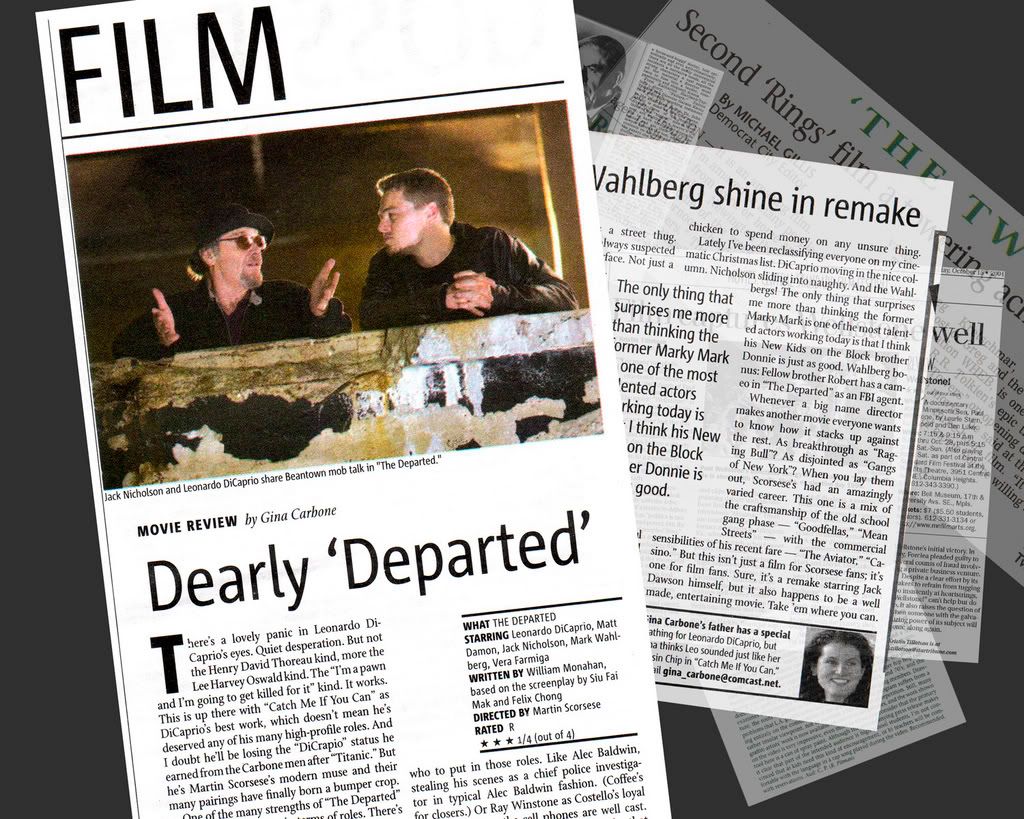 By Gina Carbone
The
American Journalism Review
thinks I'm outdated. I agree. There's an
article
in the August/September issue called "The End of the Affair: Squeezed for Profits, newspapers send their staff film critics packing. Is this sound cost-cutting or a missed opportunity?"
I'm not a full-time critic. It's a dream job. Literally. No one should ever do more than fantasize about getting paid just for that, it's simply unfair to the rest of the world. Since December of 2000 I have written one film review a week for
Spotlight
, the arts and entertainment magazine of
Seacoast Media Group
in Portsmouth, N.H. I pay for my own tickets — no studio screenings here. I write on my own time (weekends) and, as a salaried employee, no longer get paid extra for the result. (I used to get overtime.) So no one will save money by dumping me. But should they anyway? The question comes down to what's the best use of resources for space-and-cash-strapped newspapers, which are quickly being killed by the Web.
Smart papers are examining every aspect of the process from the newsroom to advertising, circulation and production. What do newspapers — as a whole, including the paper's online presence — do that no one else can? How can they best stay relevant? What are the jobs to be done?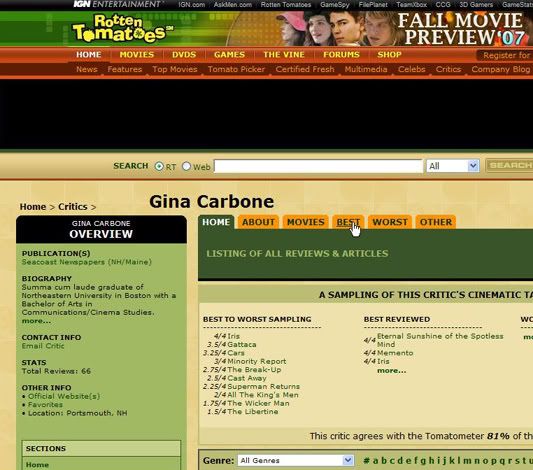 Visit RottenTomatoes. There are hundreds of national critics linking there, including me and everyone from the Philadelphia Inquirer to Flipside Movie Emporium. Back in 2005 the webmasters stopped allowing new critics to post — there were just too many of us. And there are more on blogs like MySpace and respected movie sites like the Internet Movie Database.

Why should papers spend money on something they can grab from the ether? If they had extra cash, sure, splurge on a local voice. But when the eye is so fixed on the bottomline, and they have to subscribe to wire services anyway, it makes sense to ditch the extra expense and just run Roger Ebert or the Associated Press.

Will Average Reader really care? It's not like a review of a local restaurant or a local band's CD that someone in Dallas wouldn't have a clue about. Something hyperlocal. That's the new buzz word and the main way newspapers are justifying their existence: giving readers things they can't get anywhere else.

For some papers, hyperlocal means redistributing critics into positions where they write about local film festivals, local filmmakers or just local arts in general. Other papers interpret hyperlocal to include local film critics, arguing they DO provide something readers can't get anywhere else — a local perspective. Does a New York Times critic share the same sensibilities of a southern Maine film fan?


There are arguments for this side. If a local reviewer manages to develop a loyal following, a paper might be wise to focus some branding around that person, gaining revenue from the makings of a local expert. Critics interact with their readers, often getting "you're right" "you suck" responses, plus questions such as "who was that one guy in that one film?" Ebert has Answer Man, but chances are your e-mail to his address will enter the same black hole major corporations use when you call for customer service. Contacting a local critic is another story. You're likely to find a real human being. They may not have the resources of a Roger Ebert, but they are likely to know more about what's available in your area and give you the time of day. You might even see them around town (so you can berate them in person).

Whether newspapers should retain local critics or not, what's definite is the one-review-a-week model is dead. It's still the model we're using at Spotlight magazine — one they've been using since long before my ugly mug showed up. Since small markets don't have screenings or full-time critics, it's a luxury just to have us wasting ink. If we want to stick around and prove our worth, we're going to have to branch out beyond the one "Superbad" review that hits newsstands a week after the film was released. We need same-day review postings on our Web sites — at the very least — plus film- and other entertainment-related features beyond simple criticism. (God willing, they'll include content every other paper isn't already writing about.) We need movie times and reviews sent to cell phones and e-mails. Live chats. Actively courting real-time feedback from readers, making it easy for them to connect with other local entertainment junkies. Keep the conversation going 24-hours a day, if desired, with the paper's critic serving as chaperone.

Movies aren't dying. Appetite for all entertainment is only growing with each new tech-savvy generation. People love knowing about the Nicoles and Britneys, whether they admit it or not. One of my new addictions is Dlisted.com, which doesn't do any of its own reporting. It's just some snarky blogger posting hilariously nasty comments about the celeb news of the day with links to where the gossip came from. Cheapest thing in the world to produce and it has people across the world visiting every day with the frequency of tooth-brushing.

Newspapers can't ignore that, they just have to decide the best way to cover that world with the resources at hand. Some reviewers, frustrated with the state of the media, are taking the Net by the reins. As Douglas McLennan — founding editor of ArtsJournal.com, a Seattle-based digest of arts journalism — said in the AJR piece, "The better critics are peeling off and going their own way. Four years ago there were very few arts blogs. Today there is an explosion of them, and some have enormous audiences. They're not going to just go away."

Arts blogs like this one are a way for film buffs to find a larger audience than the regional reach of a newspaper, plus be free from the thumb of the paper's owners.

I missed the last episode of "Lost" this past season, but read most of the post-show comments on Entertainment Weekly's site, including the online-only missive by EW's "Lost" expert, Jeff "Doc" Jensen. His one critique was overwhelmed with hundreds upon hundreds of comments within the hour it was posted. I can't tell you how jealous (and impressed) I was. He said he would post more later, and when he missed his own deadline fans like me went after him. We wanted his opinion. We were cultured students happy to debate with each other, but with one eye on the door waiting for the professor to return.

If newspapers want to survive, they need to find ways to be just as indispensable as Doc Jensen and my daily Dlisted fix. If that means dumping my reviews, so be it. I'm willing to evolve too.

Gina Carbone is the features editor for Seacoast Media Group and film critic for Spotlight magazine in Portsmouth, NH.