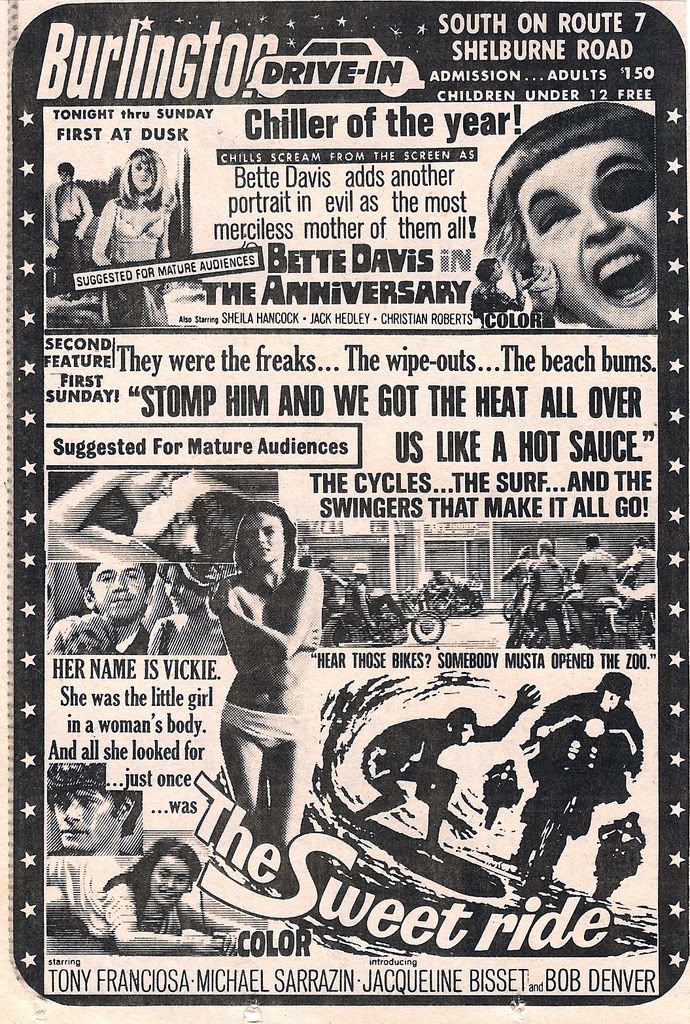 By Lars Trodson
It's no secret that movie posters aren't much fun any more. Very rarely are startling, stylized graphics employed to evoke the mood of the story. More often than not a one sheet is just the bodies or faces of the movie stars Photoshopped together to give the appearance they are in the same room together. Sometimes the faces of the actors have been so smoothed out they barely look like themselves.
It wasn't always the case. The other day I happened to come across a box of old newspapers from my aunt's house -- I was cleaning out her house after she died a few years ago -- and decided to look through it for the first time. I don't know why they were saved, for the most part they just seemed ordinary. Although there were a couple papers chronicling the death of Robert F. Kennedy and Ted Kennedy's travails at Chappaquidick.

It was in one of these papers, the Burlington Free Press, from June 8, 1968, that I came across a full page of movie ads, the kind of which you certainly don't see any more. The front page was all about Sen. Kennedy's assassination in California. I hadn't heard of most of the movies, even though some of them had big stars. One was "Counterpoint", starring Charlton Heston and Maximillian Schell -- obscure to me -- and some others.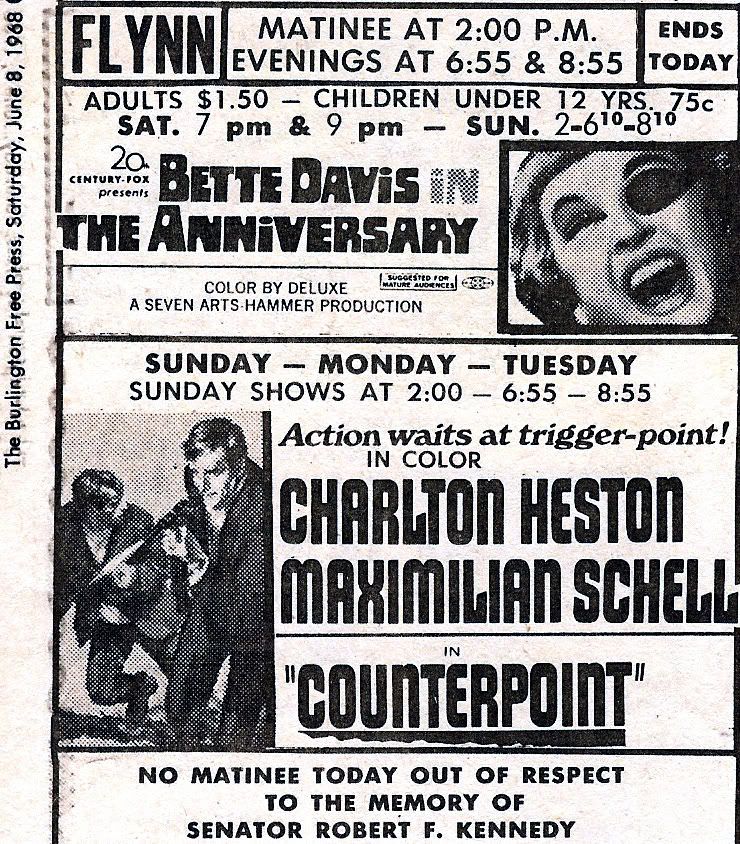 But they sure are fun. The tagline for "Counterpoint" is" "Action awaits at trigger point!" And the ads flaunt that the picture is "In Color." I looked up the film in Leonard Maltin's Movie Guide, and it was described like this: "Absurd WW2 melodrama about symphony conductor captured by Nazi general, forced to put on private concert; Heston looks comfortable because he doesn't have to change facial expressions while conducting." One and a half stars.

There's a fun ad for two Disney films: "Monkeys, Go Home" and "The Happiest Millionaire." I saw that the "Monkeys" picture featured Yvette Mimeux, who I had a huge crush on as a kid. That was playing at the Mt. View Drive In Theatre on Rte. 2 in Winooski, VT. The ads promise Two Disney Blockbusters, with an endorsement from Good Housekeeping that promises a "…zinging, heel-thumping musical made of the magical stuff of 'Mary Poppins'." This was for "The Happiest Millionaire", starring Fred MacMurray and Greer Garson. "Mary Poppins" -- I don't think so.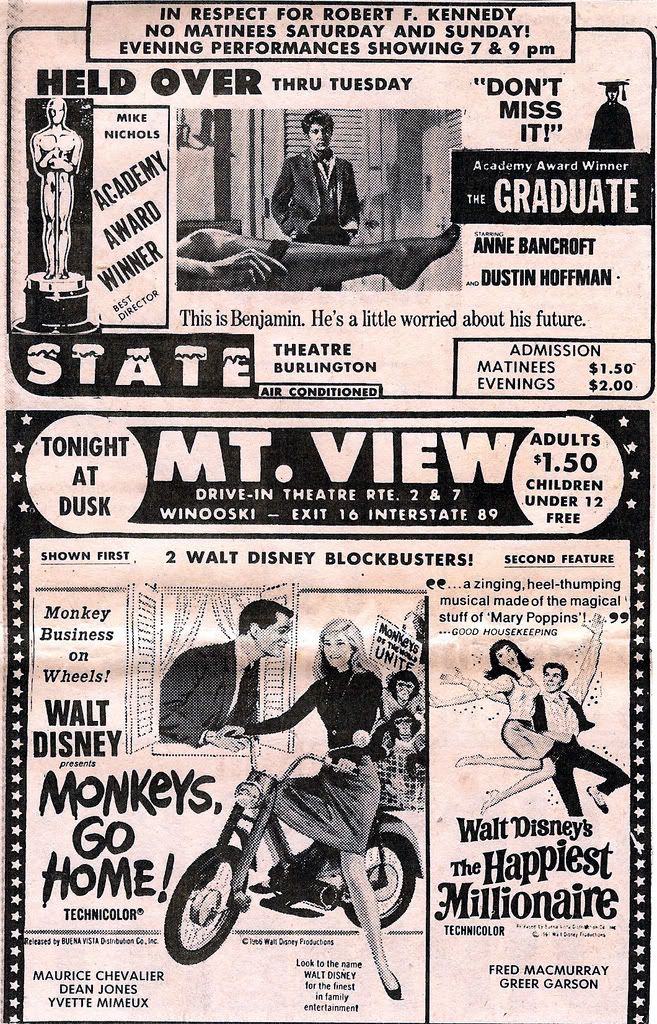 Maltin's book describes that movie this way: "Lively but overlong and uninvolving Disney musical (the last film he personally oversaw) about Philadelphia household of eccentric millionaire Anthony J. Drexel Biddle (MacMurray). Lightly entertaining. Originally tradescreened at 164 minutes."

I guess, at 2 ½ hours, no one wanted to mess with old Walt's vision of this masterpiece.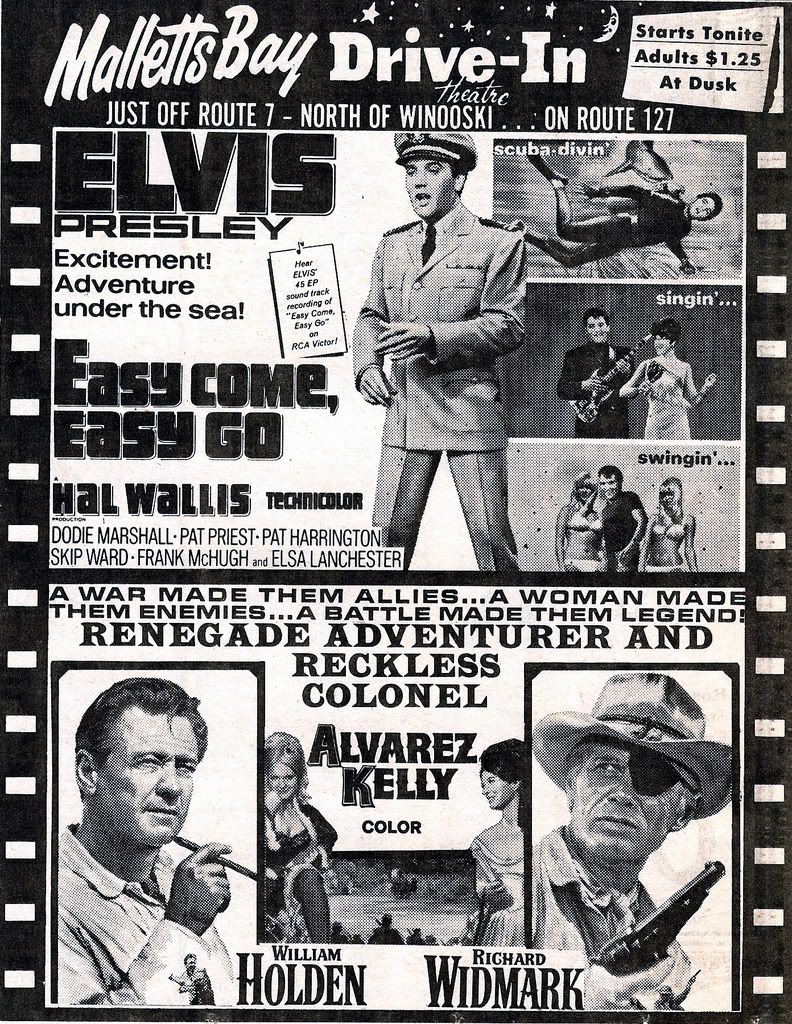 There's an Elvis movie, "Easy Come, Easy Go", which titillates the audience with the idea of a "scuba-divin'…singin'…and swingin'…" Elvis. That film also featured Dodie Marshall, Pat Priest (you may remember her from "The Munsters") and Elsa Manchester!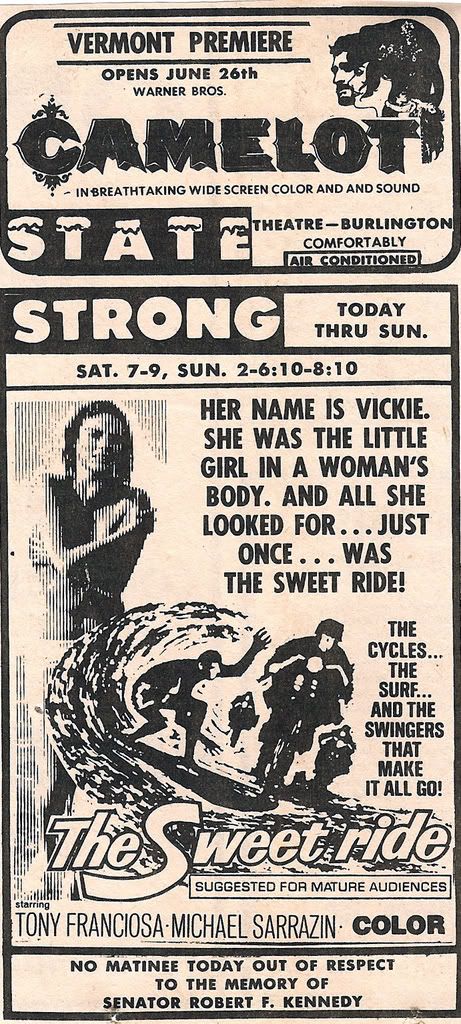 There are a couple of films suggested for "mature audiences." Sure. That's a surefire teenaged crowd lure if there ever was one. The first here is "The Sweet Ride", featuring the debut of Jacqueline Bissett. "Hear those bikes? Somebody musta opened the zoo" says one of the movies multiple taglines. The film also features Bob Denver. I'd love to see that one.

And how about "Maryjane"? Directed by Maury Dexter (never heard of him), it features the singing star Fabian and a bunch of also-rans. Love the come-on, though: "Anyone for pot? 5 high school kids smoked it…See the shocking effects." There is a picture of a young woman writhing in ecstasy, or maybe fear, in the poster.

One thing I noticed. The State Theatre in Burlington was showing "The Graduate" and it noted that it was suspending matinees on Saturday and Sunday "In respect for Robert F. Kennedy." I thought that was honorable, and suddenly realized that just yesterday, Sept. 11, nobody, outside of the places where the attacks took place, seemed to stop at all. Business just went on mostly as usual. I wondered why our leaders did not call for a national moment of silence in the morning at the times the planes hit. But they didn't.

It isn't just the movies, or their ads, that have changed.



***



Click on any of the poster images for a larger view.