Editor's note: "Family Trees" made its web debut here at roundtablepictures.com. Ralph Morang directed the film.

"Film lovers are sick people"
-- Francois Truffaut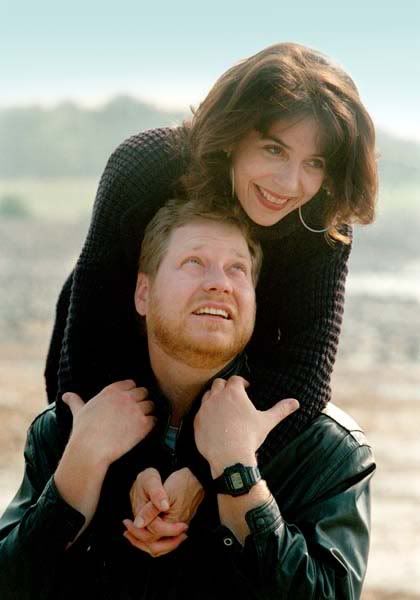 By Ralph Morang
In May, 1996, I was working as staff photographer at the
Portsmouth Herald
newspaper in Portsmouth, NH. I had been there almost four years, about the same amount of time as reporter Lars Trodson had been there.
We had worked together on many stories. That May, Lars announced he was working on a script for a film. For some reason, I thought it was a ghost story. Anyway, he gave me a script called "Family Trees" about a couple in their 30's who were about to get married. There were no ghosts in the script.
I boldly told Lars that I wanted to direct the film. I had made some 8mm and 16mm films in high school, college and after, and had taken some courses at the Maine Film and Television Workshops. My ambition was to work with actors on a film.
There were now the small hurdles of assembling a crew, casting actors and finding money for producing the film. There was no question that the film would be shot on FILM. In 1996, projects were being shot on video, but the medium was not taken seriously. Our film would be shot on 16mm film in the Super 16 format -- Super 16 can be blown up to 35mm without cropping, and it is affordable and manageable for a small crew. And there is nothing like the look of film.

We held auditions one weekend the fall of 1996 and had an excellent response to the audition notices. While some of the actors came form as far as Boston; most lived within 30 or 40 miles of our base in Portsmouth.

Our lead actress was Lisa Stathoplos ("Martha"), who has an extensive acting resume on stage and in film. She played Jud's mother in Stephen King's Pet Sematary. Our lead actor was Gregg Trzaskowski ("Wil") who has since been in "Message in a Bottle" and "The Conquest of America" for the History Channel. In the credits for "Family Trees," we used most of the alphabet for their names. Lisa and Gregg had actually worked together before in a television commercial.

Another actor we cast was Don Marston ("Moody") who had extensive stage experience across the country. All the supporting roles were filled by local actors and some first-time actors.


Cinematographer Ron Wyman came on board, and the three of us went to Boston Camera to look at cameras and equipment. They set us up with an Arriflex 16SR3 with zoom lens and accessories. We rented the camera package on weekends because the rate was lower than weekday rates. Film was provided by Kodak.

Our crew was small and consisted of six to eight people. They included Brent Beavers, assistant camera; Vicky Brown, script, continuity, and all-round production assistant; and Susan Morse, sound assistant.

Our first day of shooting was on October 26, 1996. It was a beautiful day and we shot our first scene in Market Square in the middle of Portsmouth. We got no dialogue on tape: many motorcyclists also wanted to enjoy the beautiful day in Market Square. It was noisy. We did use the footage under the titles, but without the sound.

We had better luck with sound later in the day on Peirce Island, a park. Thus began our routine over 12 weekends in the winter of 1996-1997. I would rehearse actors during the week for the upcoming scenes and we would shoot on the weekend. On Monday, the camera go back to Boston and the exposed film would go to DuArt in New York for processing and 3/4" U-Matic video dubs.

Watching the first video dubs was exciting. The film looked terrific, and we were very pleased with ourselves. Outdoor shooting, after we overcame our sound problems, went smoothly, as the weather cooperated. Our lighting equipment consisted of a reflector or two. Soundman Eric Gleske made the Nagra sound recorder jump though hoops.

One brilliant idea I had was to shoot a scene as Martha and Wil drove through the Maine countryside. There are a couple of ways to sh oot a car scene. The easiest is to shoot from the back seat. Not us. We decided to cutaways from a truck ahead of the car. But because of the bad roads, the shot was so jiggly we could use only a little of it. To get the two-shot, we used a hostess tray. This is where the camera is mounted on the car door and shoots through the window. A hostess tray is like a piece of bridge decking hung on the car door with an entanglement of suction cups and straps and is more than sturdy enough to hold the $100,000 camera. For the reverse angle, repeat on the other door. We could not see the image as we drove, and we guessed at the exposure.

Sound Recordist Eric Gleske and I hunkered down in the back seat during the shots. The actors had to start and stop the camera. Nevertheless, the scene looks beautiful.

Our first indoor shoot was in a workshop, where Wil and his friend, Jeff, have an intense conversation. We established our lighting technique with this scene. We replaced the household light bulbs with BBA photoflood bulbs. These are 250 watt bulbs for which our tungsten film was balanced. For each set-up we used a 2000 watt reflector for fill light. Cinematographer Ron Wyman did the first of many scenes with the camera on his shoulder, following the actors as if he were another person in the room.

We chose outdoor locations to show off the beauty of the New Hampshire and Maine seacoast and indoor locations we were familiar with, to keep the production simple. For interiors, we used locations that fit the characters -- Wil and Martha had an apartment in a typical Portsmouth house; Martha's parents lived in a grand Victorian. The Sheraton Hotel donated a room for one scene, and we took over the Press Room one Saturday for a scene in a bar.

My favorite sequence is the scene in the Victorian house. For two days we shot what was a party that takes place in on e evening. In some shots there must be 30 people. In others there are only two. We covered the windows with tar paper to have perpetual night.


Somehow, Lars raised money for each weekend's shoot, and except for some pick-up shots, we wrapped at Barnacle Billy's Restaurant in Ogunquit, Maine, on March 29, 1997 (my birthday).

Ron was editing some of the scenes as we went along, but we had no whole film to look at yet. As I went through the footage, I saw we had a challenge editing some scenes. While Ron cut together a 20-minute promo piece, I went through the whole film using VHS video dubs, trying to work out the editing problems.

In September, 1997, we took the 20-minute cut of key scenes to the Independent Feature Film Festival in New York. This is an annual juried event where independent filmmakers present there projects to potential buyers. It was an exciting weekend and "Family Tress" was well received.

Our final cut was done by Jay Childs and, through the miracles of modern technology, is now available for download.

It is said that you should be part of something larger than yourself. In making a film, collaboration is key, and flexibility a necessary skill. While something in the can is the goal, the process is what you will remember.

If film lovers are sick people, then film makers are insane. It's a great kind of insanity.