One of Hollywood's Busiest Producers Talks Indie's Future
By Lars Trodson
J. Todd Harris, CEO and founder of
Branded Pictures Entertainment
, has made or helped to get made 37 movies in the past 16 years. Even Woody Allen can't keep pace with that. The films range from last year's Oscar nominee "The Kids Are All Right" (on which he was an executive producer) to the big-splash "Piranha 3D" to the much admired "Bottle Shock" from 2008.
Harris is, if anything, the embodiment of the modern independent producer. He's funnelling movies through the system for a wide range of audiences, and he's adapting his methods to the times. He now takes time everyday to work on social and business networking. He's even recruiting athletes for his lacrosse movie through Facebook and other platforms on the Internet. He's juggling projects between major Hollywood players such as the Weinstein Company to a new filmmaker working out of Georgia.
He seemed the best person for Roundtable Pictures to talk to about the challenges facing the independent movie scene. The movie business, Harris readily admits, is changing as rapidly as the music scene. And there are many questions: How do you get your movie distributed? How do you combat piracy? How do you raise money and how do you market a small independent film when the competition has $50 million to spend on a marketing campaign?
He also answers a central question -- and young, independent filmmakers in places all over the country outside of LA should pay attention to this: Do you need to be in Los Angeles to have a career in the movies?
Harris is voluble, blunt, likable and smart -- he's a New Yorker. When he talks about the movies he's obviously onto a topic that he's in love with, after all these years, and one that he knows intimately. He's also a man on the go. "I'm on my way to Vermont -- I'm making this ski movie in Vermont," he said when we first got him on the phone. "I flew into Manchester (NH) last week and drove up to a ski resort to discuss shooting the movie at their resort."
He adds: "In the meantime" -- in the meantime! -- "I'm gearing up to do a lacrosse film in about eight weeks."
So we grabbed a little time with Harris while we could.
He was clear-eyed about the challenges facing independent film today. While the obituary for the small, character-based film has been written, and published, many times now, Harris doesn't see things that way. He sees a future where people will always go to the movie theater to see some films, and he sees a time when the obstacles to getting small films made and seen by audiences will eventually break down.
Harris adds a strong note of caution to filmmakers: the only way any of this will work is if your movie is any good.
"What I suffered from early in my career was that I was just so desperate to be part of the movies and be part of the dance that I didn't think about who was going to see it and what was going to happen to it in the end," he said. "I have to say, when I approach movies now, it really comes with a much heavier marketing perspective. I think that applies to big broad films and it applies to niche films."
Harris then asks a rhetorical question that every aspiring filmmaker should ask themselves before they spend their own or their family's hard earned money on an independent project: "Who in the world makes a product without thinking how they're going to market and advertise it? Only filmmakers. Even if it is finished -- what do you do with it? That's a substantial issue out there," he said.
The issue of getting a film seen is not quite centered on the quality of the film, according to Harris. It's also a question of how open the pipeline is between inventory and the audience. Can your project squeeze through? Harris doesn't think the issue has been fully resolved yet.
"What's happened -- the first thing that's happened -- is that the filmmaking process became democratized, because of the accesibility of the tools. It started with editing and then it became shooting digitally. It became easier for anyone to make a movie," said Harris. "The bad news is that here is a lag time in the distribution world in trying to catch up. There is still a chokehold on getting mainstream distribution of a film. I think what's happening is there is becoming two film worlds. There is the $50 million to $100 million movie world and then there is the other world -- which is a much smaller. The good news is that the distribution model is catching up."
There are places now to see films on the Internet and home distribution models such as Netflix (streaming right into your flatscreen) that are able to give smaller films a shot at finding an audience.
There's another duality to this democratization, of course, as Harris readily admits. Having access to filmmaking equipment, much in the same way that people can publish whatever they want online, or produce CDs in their basements, doesn't necessarily mean that what is created is any good.
"It's like blogging, which is my least favorite adjective, verb, noun of the 21st century, because, suddenly, everyone can voice their opinion by just banging on the keyboard like a monkey," Harris said. "It necessarily dilutes the entire pool. Just because you can broadcast what you do doesn't necessarily mean it should be broadcast. That can be applied to the movies."
There is also a formidable foe to making money in the movies, and it is one that is familiar to anyone who has seen an FBI warning at the beginning of a DVD or seen one of those jangly videos at the beginning of a film declaring that piracy is the same as stealing an old lady's pocketbook.
"Can you monetize film online as opposed to just ripping them off the way they do with music? Fortunately, films are much bigger files and are a little bit harder to steal, but still a day after a film is released in the US -- and sometimes before -- there's a pirate on the streets of Beijing," said Harris. "So the intellectual property landscape is the wild west and its very exciting but it's also daunting. I don't know the facts and figures -- you'd have to ask Christopher Dodd (now running the Motion Picture Association of America), but the numbers on piracy are just stunning, just stunning. There's an exciting future in independent film but what needs to catch up is the monetizing and how in an increasingly fluid digital world people can make sure their intellectual property is not stolen. That's really the key."
Harris adds, only half-jokingly, "I wish I was in the cyber security business because you're talking about an industry that's going to be huge in the next few decades." At the same time, the future does not lie solely within the confines of the computer monitor or the flatscreen TV.
"I still think there is a world where movie-going will remain popular and remain an event. People don't want to stay home all the time. I just helped make 'The Kids Are All Right' -- and frankly, I'm glad that people went to see it in the theaters, but that movie would play just fine if you you watch it on your laptop in bed or on a plane. It really would. Whereas 'Avatar" or 'Thor' probably needs to be seen in the movies. That's why people keep paying 10 or 15 bucks in a theater. Who the hell wants to watch 'Titanic' on a wristwatch?"
Harris mentions something that is close to the heart of many movie-goers, and that is the pathetic state of the movie-going experience itself. Theaters today are cavernous, cold -- both physically and emotionally -- the acoustics are bad and the image sometimes doesn't fit the screen. Harris thinks that needs to be addressed.
"We have got to get clever about creating a premium service," he said. "I think that we've got to find ways to keep the experience of seeing film somehow unique and fresh. That's why theaters have a lot of catching up to do. There are premium theaters, of course. For me, it's worth it to pay the two extra bucks to go to the ArcLight Theater and have my seats and not have to wait an hour in advance and fight my way through the crowd. I like buying my seats online."
But until that time arrives, even though it may be sooner than later, Harris concedes that the challenges of marketing a smaller movie to the general public will take stamina and creativity.
When he's asked about this Harris sighs, and pauses for a second.
"You know, I hate to worship at the altar of new media, but I don't see any other way. Five years ago of course I wasn't on Facebook, three years ago I got on grudgingly. Now, I spend 30 to 60 minutes a day on it. Where did that time come from? At the expense of what? It's got to be embedded in the whole marketing process. How much time do I spend getting my followers up? I've got 7,000 people following my lacrosse film "Crooked Arrows." If you go to "Crooked Arrows" on Facebook or
CrookedArrows.com
, you'll see that I take considerable time and resources to make it all really appealing. I've hired a social networking person. Five years ago this didn't even exist but now you need a social media guru. Traditional marketing has really changed. The first thing you do when you get an article in the paper is that you put it online. You put it on Facebook."
Harris mentions the online buildup that led to the success of the tiny "The Blair Witch Project" more than a decade ago. People are still trying to recapture that kind of marketing magic.
"What I learned from "Bottle Shock" (2008) is that if you're not going to do a branded project you need to know who your audience is, you need to bring that audience along with you for months, sometimes years, before you actually deliver the product. I've been on Facebook with "Crooked Arrows" for a year. I have 7,000 followers on it now and I'm hoping like hell that I wind up with 50,000 or 100,000 followers by the time the movie opens (scheduled for spring 2012)."
The idea of a "branded project" is one that Harris is taking to a new level on the independent film scene with his company Branded Pictures Entertainment (
www.brandedpicturesentertainment.com
). The world knows about all the blockbuster tentpole studio films that have been made from known brands. Harris is doing this now with smaller films that he hopes will be embraced by a large audience.
"The philosophy behind Branded Pictures Entertainment is a recognition and embracing of the reality of what's happening. If you look at the top 10 grossing films every year, for the last 10 years, eight or nine are based on a brand. If you look at the top 100 grossing films each year, probably 80 or 90 percent are based on a brand. I'm very very wide open about what that brand can be -- based on a book, a game, a toy, a theme park ride, a song, a poem -- anything like that," said Harris.
The philosophy is straightforward:
"With all the noise in the marketplace a brand stands out. "Sherlock Holmes" is one of my favorite examples. "Sherlock Holmes" was this dusty old thing about a guy with a funny hat and a pipe and the next thing you know is that Guy Ritchie is directing it and he's spending 150 million dollars on it. It's got Robert Downey Jr. and Jude Law and the thing is rockin'. It's also 'Pirates of the Carribean' -- a ridiculously old Disney theme park ride that now doesn't feel old anymore."
All of these are franchises with huge global sales.
"If I told you 20 years ago that Transformers, this toy from Hasbro, was going to be a multibillion franchise you would have laughed me out of the room. Or Marvel. You couldn't give away Marvel Comics 20 years ago. To me, having some recognition in the marketplace is half the battle," he said. "So my idea with Branded Pictures Entertainment is to take these brands and dust them off and refurbish them."
Harris mentions that just about any brand with some name recognition is ripe for its own movie: "They're making a movie out of 'Monopoly.' Their making a movie out of (the game) 'Candyland.' They're making a movie out of frickin' Magic Eight Ball!'" Harris laughs not only because it's funny but also because of the possibilities.
"One of the things I'm doing is making a movie out of the lost diaries of Don Juan. Don Juan is a brand. So even on an art-house level there is a branding approach. Think of Jane Eyre. I'll develop 100 titles and hopefully 10 will get made," said Harris. "I'll get the title. I'll get the screenplay and put together a film package and after I've done all the groundwork I'll go to the producers who have big deals, and they can go off and make the movie. Perhaps one of them will turn into "Transformers." What I hope is that I hit a couple of doubles and a couple of triples and maybe one out of the park."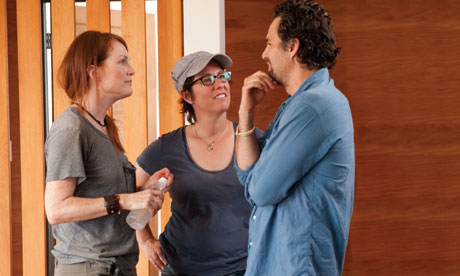 Harris had a pretty good run at the plate last year. He was an executive producer on the Oscar-nominated "The Kids Are All Right", written and directed by Lisa Cholodenko, and was involved in the rethink of the 1978 B-movie "Piranha."
He said he played two very different roles for each feature.
"Lisa (Cholodenko) had two or three very high quality films, small films ("High Art", "Laurel Canyon"), and she wanted to make 'Kids' for 15 million dollars. Then she wanted to make it for 8 million and at the end of the day she made it for 4 1/2 million," said Harris. He said the producers were having some difficulty raising money.
"For 'Kids', I wish I could take credit for coming up with the idea, and being best friends with Lisa Cholodenko and getting my best friends Annette Bening and Julianne Moore to be in the film. But that's really not how it was," said Harris. "I was friends with one of the producers and they needed some money. I found them some at the last second so I got an executive producer credit and a small fee. That's the truth behind that."
The movie grossed $35 million at the box office, and garnered four Academy Award nominations, including Best Picture.
"I did get to go to the Oscars this year for the first time and even though I know it was a dull Oscar show in the pantheon of Oscar shows, in my view even if you've never had sex before even mediocre sex is good," Harris said, laughing. "I got in my tux. I walked around, I had nice seats. I had a reason to go so it was good."
Lightning can strike in the movie business. But the movie business is so unpredictable and fickle that even if you do your homework you may not score well on the test.
"Piranha 3D" from last year is a case in point.
"'Piranha' was something I developed for three years. I got somebody to spec the screenplay and I told everybody about this hot young French director (Alexandre Aja). I got the Weinstein Company involved, I got (producer) Mark Canton involved," he said.
The first approach as a straight horror film wasn't working out when some good fortune struck: Harris's choice of director, Aja, made the well-received remake of "The Hills Have Eyes", and he was suddenly a hot property. The film company returned to the concept of turning "Piranha" into a horror-comedy. The film went on to make about $35 million domestically, but Harris was disappointed at this performance.
"It really didn't perform the way I thought it would," said Harris, but added the film "really is a huge guilty pleasure. Where else can you see severed penises and silicon breasts being eaten by fish? And Richard Dreyfuss and Jerry O'Connell and Elisabeth Shue, who is a serious actress in the middle of this horror film? These are thrills you can't buy with American money. But I was disappointed the film wasn't a bigger hit."
For many filmmakers across the country, the holy grail of independent filmmaking is still the Sundance Film Festival in Park City, Utah. Sundance is now more than 30 years old. It has seen reverses to its reputation, and it has been rehabbed more than once. Harris believes Sundance still has value.
"When I took "Bottle Shock" out there, there were only three films sold. Last year there were 25, 30 films sold, so I think it still has value. There's a part of Sundance that has become incredibly crass and commercial, but I still think that's only 10 or fifteen percent of the Festival" said Harris. "At the rest of the festival you have documentaries and movies you wouldn't see anywhere else. But show me something that hasn't been bastardized to some degree and I'll show you something that no one has ever heard of."
There was one more idea -- a big idea -- floated about 20 years ago. It was that unknown filmmakers could take their credit card, make a feature, and get it picked up by a major studio. This happened to an unknown filmmaker named Richard Linklater when he made a tiny film called "Slacker" that won the Grand Jury Prize at Sundance in 1991. It had a budget of $23,000 and came out of Austin, Texas.
Then, just four years later, New Yorker Ed Burns made a feature film called "The Brothers McMullen" (1995) that went on to in multiple prizes at Sundance and to gross millions on a budget of $28,000. Filmmakers with a credit card, and money from family and friends were off and running. Not only did the number of filmmakers explode, the number of film festivals started to increase exponentially. (There was also "The Blair Witch Project", made in Maryland, which went global in 1999.)
The idea was fixed: you don't have to be in LA to get a studio deal. But Harris had a twist to this notion.
"You have to have at least a foot in the water here (LA). Or you have to be willing to spend some time here, or have a partner here. Honestly, that's a lot of what I do with people in Boston, in other parts of the world. I become their guy in LA," said Harris. "You don't have to live here, but you either have to have somebody who does, or you have to cop to the idea of spending some time here. If you're not here knocking on doors then you're not going to be taken seriously."
Getting a film off the ground is not a part-time endeavor, said Harris.
"What people forget is that every time someone calls someone in LA, that person is trying to make a buck, too. Every phone call, every interaction, every minute of the day, the question is: Is this interaction making me any money?" he said. "It's not any different from any other business. Nobody wants to see a half-baked business plan from somebody they've never heard of. It's all about who is making the recommendations."
Harris offered an example of how this can work: "I have this little film that I'm making in Georgia, in Atlanta, with a Georgia filmmaker. I'm raising money from the hinterland, but I said let's have auditions in LA with a casting director that I've used before," said Harris. "I'll tell people we don't have all the money, but I had half a dozen real actors come in, and I've cast one of them and now I'm doing the movie around him. It's all about building credibility. Whether it's you or someone on the ground for you, you need to have some credibility."
He laughed and then said, "After 37 movies, I think I finally have some."
--
For more on "Crooked Arrows," visit
crookedarrows.com
.
Watch the teaser for "Crooked Arrows" below: