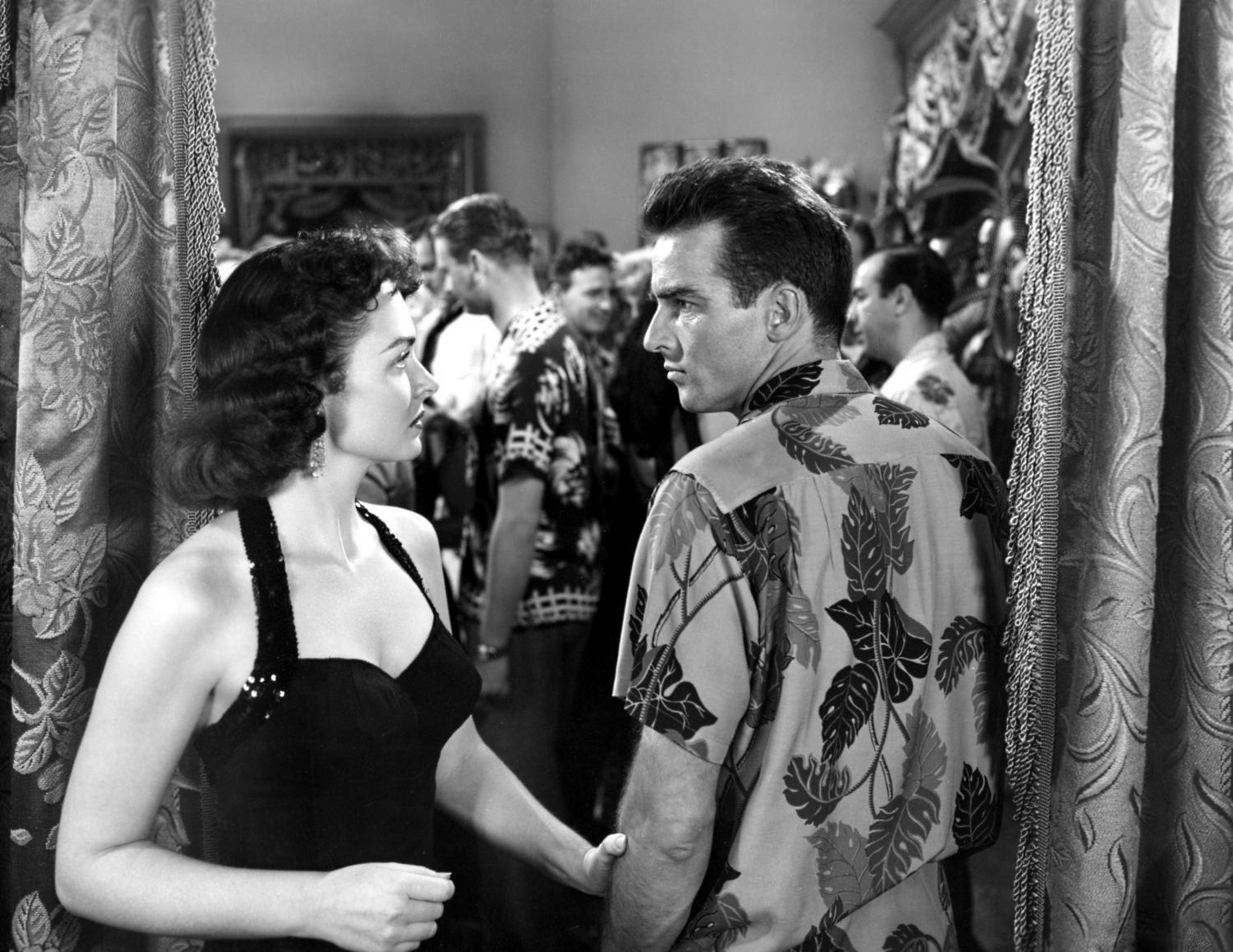 By Lars Trodson
Montgomery Clift was nominated for four Oscars in a career spanning just 17 films in about 15 years. He never won. He was up for a Best Actor Academy Award in what is perhaps his greatest role, Robert E. Lee Prewitt in "From Here To Eternity," but he lost out to William Holden in "Stalag 17." If you have to lose, it might as well be for a good reason. It's hard to argue with how the voters went that year.
Clift is not really remembered today. His movies are too melodramatic and almost all were in filmed black and white. A disfiguring car accident in 1956 left him broken. He was also a tortured gay man in 1950s Hollywood. Nothing, not even the pursuit of art, can balance out a life that seems so unbearable. On screen, Clift always seems a little sad, a little lost. He looks frail and his voice halts; his eyes always seem skittish, as though he is casing out the landscape for demons.
He was, in his youth, uncommonly handsome. His female costars always said that they had a desire to protect him — to keep him out of harm's way. His great friend was Elizabeth Taylor and even her formidable personality and will to live could not ultimately stop Clift from destroying himself. You get the feeling that if Elizabeth Taylor couldn't save him, no one could.
His last two movies, the John Huston-directed "Freud," and the forgotten "The Defector," were not memorable or well-received. But just prior to those two films, even in his shattered state, Clift had one last moment of greatness. A heart-breaking moment of beauty.
The movie was "Judgment At Nuremberg" (1961), which tells the story of one of the trials that were held in Germany after World War II to prosecute Third Reich officials for war crimes. Clift played a mentally challenged young man named Rudolph Petersen, a survivor of a concentration camp who was sterilized by Nazi doctors.
In his one scene, Clift is on the witness stand. It's impssible to separate his performance from the reality of his own life, but the magnificent power of what he put into this portrait cannot be denied. The man on the stand is sweating and his hands are shaking. He seems unable to sit still. He grips the arms of the witness block, as though he is physically trying to hold himself together. His searching eyes seem totally hollowed out, white and frightened. At first, he is fairly calm throughout the questioning by the American attorney who is prosecuting the German officials (played by Richard Widmark). This American attorney is on his side. In this scene Widmark is warm, caring and gentle.
But then the German defense lawyer, played by Maximillian Schell (in an Oscar winning performance) tears into Clift. The tortured actor flails against the questioning with a haunting, plaintive voice. He tries to explain what has happened to him amidst the brutal questioning.
I was
sterilized,
says Rudolph Peterson. "Since that day I am half of what I have ever been," he shouts at the German defense attorney. Even though he is talking about his sterilization, one can't wonder if Clift is raging against the car accident and the drug and alcohol abuse that completely changed his life and career.
And then Peterson takes out a picture of his mother, who the Nazis claimed was feeble-minded and was, therefore, the reason for his sterilization. He holds the picture out for everyone to see, at Schell, at the judge (played by Spencer Tracy), at Widmark. All the other actors seem gentle then, almost overwhelmed at the sight of this actor, this man, this brittle man and actor, putting forth everything he's got, for the screen.
Clift, in this scene, is noble — an almost impossible feat for any actor to achieve. He is playing a small man, a small, helpless man, and all he is asking for is a little dignity, a little compassion — he
wants
these things, which shouldn't be so hard to come by for anybody. The scene is almost unendurable because of the stunning rawness of Montgomery Clift's performance.
Clift was nominated for a Best Supporting Actor Oscar for his role as Rudolph Peterson. He lost out, for the last time, to George Chakiris from "West Side Story." You can justify the earlier Oscar loss to William Holden, but the Academy was oblivious on this one.
Five years later, in 1966, Montgomery Clift died at the age of 45. News reports said he was found lying on his bed, both hands clenched into fists.
Lars Trodson is the author of two novels, "Eagles Fly Alone" (http://amzn.to/1uRsL0E) and "Tide Turning." (http://amzn.to/1v38X9O)