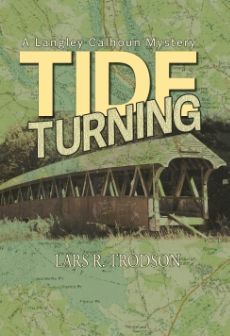 "Tide Turning," the second novel featuring detective Langley Calhoun, has just been published by Mainly Murder Press. The advance word is already out:
"Mention New Hampshire and its small towns, and the image quickly comes to mind of peace, quiet, and years of undisturbed history, surrounded by a town common and white-peaked churches. But author Lars Trodson knows better, and in "Tide Turning," he rips off the façade and reveals the murky truth of what can happen in a small town, with years of betrayal, hidden and deadly secrets, and one man who's determined to do what's right, no matter the odds, no matter the chances. Very well done!" — Brendan DuBois, author of "Fatal Harbor," two-time Shamus Award winner and three-time Edgar Award finalist.
"Welcome to Lars Trodson's 'Tide Turning' — a world in which environmental activism, covered bridges, stewardship, and living with illness and loss come together in a way that feels immediately familiar. In the novel, Trodson's second, it is the characters that first and lastingly pull us in — even those making brief appearances — the wanna-be rock star, the live-hard, play-hard boss, a father's late-in-life girl friend. And they pull us in because of Trodson's unique ability to make them seem not only credible, but kindred. This is intelligent fiction that addresses the major 'stuff' of our public and private lives. In 'Tide Turning,' Trodson has beautifully choreographed this waltz of life — and the work it takes to meet our civic and social responsibilities, even as we cope with the deep losses and ongoing challenges of our own lives. — Lisa Starr, former Poet Laureate of Rhode Island, author "Mad With Yellow" (2009), "This Place Here" (2001), and "Days of Dogs and Driftwood" (1993).
Look for details on readings throughout New England in March. If you'd like me to attend your book club, please reach me at larstrodson@gmail.com.
Thank you all!