First Peek at New, Improved 'At the Movies'
: "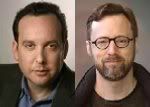 They're serious. They're grown-ups. They wear black jackets and they use big words. If you missed the Sept. 5 debut of its post Lyons/Mankiewicz resurrection, Buena Vista Entertainment has rolled out an online look at the updated,
No Bens
At the Movies
reboot.
The sentiment expressed by
At the Movies
' official website is clearly,
You know those two boneheads we hired to replace Ebert and Roeper? Don't worry, we canned 'em.
The site's main page now features a dauntingly somber photo of critics A.O. Scott and Michael Phillips, alongside a video preview trumpeting 'serious reviews, by serious journalists.' It's a big ol' slap in the face to Ben and Mank, but it gets the point across -- Buena Vista screwed up by hiring The Legacy and the Chucklehead, and now they desperately hope to repair the damage by replacing them with, well,
actual film critics
.
The clips of new reviews are like a big, frosty glass of water after enduring the Bens' desert of stupid. In one clip, Phillips and Scott actually engage in -- gasp! -- thoughtful deliberation about the tone of
Big Fan
, with Phillips telling the unimpressed Scott that he misreads the black comedy as a naturalistic drama. Watching smart critics say smart things, on subjects in which they're actually knowledgeable makes one nostalgic for the days when Siskel and Ebert were a weekly must-see.
Continue reading First Peek at New, Improved 'At the Movies'